PublicationsAgricultural Mechanics & Engineering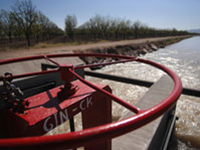 Agricultural mechanics and engineering publications cover topics related to water quality, graywater, well disinfection, septic tank maintenance, farm safety, and irrigation water flow measurement.
Many of the publications are available as PDF files. To use files in PDF format, you will need the Adobe Acrobat Reader, which is free to download from the Adobe web site.
---
---
Engineering
M-112: Water Quality for Livestock and Poultry
M-113: Septic Tank Maintenance
M-114: Nitrate in Drinking Water
M-115: Disinfecting a Domestic Well with Shock Chlorination
M-116: Treating and Storing Water for Emergency Use
M-117: Farm and Ranch Safety Audit
M-118: Monitoring Your Well Water
Circular 606: Hoop House Construction for New Mexico: 12-ft. x 40-ft. Hoop House
Circular 667: Onsite Wastewater Management: A Manual for Tribes
Circular 671: Designing Solar Water Pumping Systems for Livestock: User Manual
Circular 673: Solar Lighting System: User Manual
Circular 674: Solar Time, Angles, and Irradiance Calculator: User Manual
Irrigation
M-226: A Low-Cost Water Measuring Device
M-227: Understanding Horsepower and Water Horsepower Efficiency and Fuel Consumption Costs for Irrigation Pumps
Circular 670: Designing Solar Water Pumping Systems for Livestock
Circular 671: Designing Solar Water Pumping Systems for Livestock: User Manual
back to extension how-to publications page
back to main publications page